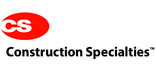 The CS Wallglaze product range has been developed to offer the latest technology in providing effective coating systems with green credentials. They provide versatile solutions for challenging project requirements, particularly where infection control and anti-microbial performance is important.
CS Wallglaze range
Wallsheen
A water based, durable emulsion with anti-microbial additives in all layers. Suitable for general circulation areas like corridors, receptions and wards.
Wallflex
A superior and versatile hygienic wall coating system suitable for use in both dry & wet environments. Wallflex is also 99.5% solvent free and very low odour.
Armourglaze
A tough chemical resistant wall coating, which lends itself to aggressive chemical environments such as cat. 3 & 4 laboratories & mortuaries.
Colours
Options: BS 4800; RAL Classic; NCS 2nd Series colour as standard
Colours can also be matched to provided samples.
Also by Construction Specialties
Construction Specialties address and contact details
Construction Specialties (UK) Ltd
1010 Westcott Venture Park
Westcott
Aylesbury
HP18 0XB
Tel: 01296 652800
Fax: 01296 652888
View on map