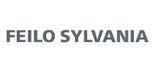 | | |
| --- | --- |
| Sector | Culture and heritage |
| Project type | New build |
| Services provided | Product supply |
| Year completed | 2012 |
| Project location | Northern Ireland |
| Client | Titanic Belfast |
| Consultant | Sutton Vane Associates |
| Products used | Torus spotlights / Myriad V downlights |
Context
Sylvania supplied 400 Torus spotlights and Myriad V downlights to Titanic Belfast, the world's largest Titanic visitor experience. The lighting scheme, designed by Sutton Vane Associates, makes theatrical use of light and shade to deliver a first-class visitor experience.
Located on Queen's Island at the entrance of Belfast Lough, Titanic Belfast stands where the shipbuilders Harland and Wolff constructed the slipways to accommodate the simultaneous construction of the Olympic, Titanic and Brittanic liners. Lighting designer, Sutton Vane Associates (SVA), was commissioned to provide lighting designs for all public spaces within and around Titanic Belfast.
A tight deadline for the works - to get the visitor experience ready for the 100th anniversary of the ship's maiden voyage - created a challenge for SVA.
Products used
The theatrical use of light, provided by Torus spotlights and Myriad V downlights, attractively illuminates the museum's precious artefacts and elegant building structure.
The lighting strategy for the building reflects and supports the narrative of the Titanic story with energy-efficient lighting that is sustainable and easy to maintain.
The Titanic Belfast ballroom and banqueting hall is modelled to look as similar as possible to the original RMS Titanic's interior – incorporating chandeliers and a replica staircase. To successfully light these eye-catching pieces and keep them as true to life as possible, a combination of 159 Concord Myriad V 50 recessed downlights and 246 Concord Torus100FX low voltage recessed spotlights were used.
Outcome
The lighting scheme resulted in an improved visitor experience by presenting a contemporary and welcoming atmosphere. It is energy-efficient and easy to maintain.


More projects by Feilo Sylvania
View all
Also by Feilo Sylvania
Feilo Sylvania address and contact details