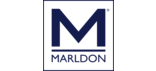 Material / finish
Solid wood

Skirting type
Ogee
Torus

Features
Double sided

Length x Height x Projection
2400x142x20mm

Duo skirting is profiled on both sides, so can be reversed from Torus to OG skirting as required.

20mm deep and 142mm high, the oak skirting is available in 2400mm lengths.

Duo skirting can be supplied pre-lacquered or unlacquered as required.
More skirting and floor coving by Marldon UK
View all
Also by Marldon UK
Marldon UK address and contact details
Havwoods Accessories Ltd
172 Brierley Road
Walton Summit Centre
Preston
PR5 8AH
Tel: 01772 696600
Fax: 01772 647397
View on map