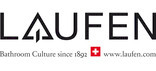 30 November 2017
Laufen is being honoured with Design Prize Switzerland 2017/18 for developing the innovative material SaphirKeramik.
The international jury of Design Prize chose Laufen as one of the winners from 45 nominees.
"New materials have always been important drivers of design development. In SaphirKeramik, the traditional Laufen brand has created an innovation that is just as surprising as it is remarkable, whose impact on sanitary ceramics can only be estimated today."
SaphirKeramik by Laufen has all the hygienic advantages of traditional bathroom ceramics, but is thinner, more defined, and extremely robust. Its strength is comparable with carbon steel and twice as strong as vitreous china.
The composite material does not require any additives and it can be processed using traditional production processes.
Related entries
Laufen offers two washbasins from a new material SaphirKeramik - one square; one rectangular. SaphirKeramik is a new generation ceramic material that can be manufactured in completely new shapes that are not possible with traditional ceramic. Closely defined radii and edges, along with much thinner walls are now possible, similar to those seen in...

Product, 13 November 2017
Also by Laufen
More news on INTERIOR DESIGN
Laufen address and contact details
Laufen Ltd
Samson Road
Hermitage Industrial Estate
Coalville
LE67 3FP
Tel: 01530 510007
Fax: 01530 838949
View on map