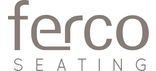 Suitability
Auditoriums
Lecture theatres

Products
Seats

Features and accessories
Data connections
Power connections
Tip-up seats
Writing surfaces

Upholstering
Seat and back

Upholstery materials
Fabric
Leather
Vinyl

Frame construction
Mild steel

Seat construction
Timber / wood

Fixings
Floor mounted

Apollo is a design-led approach to providing practical, comfortable seats and desks, where maximisation of space and a striking aesthetic are the priority.
This iteration on Ferco's standard lecture theatre seating has allowed them to maximise comfort within the very limited dimensional constraints often available. By re-thinking some old ideas, it has been possible to use modern manufacturing techniques to provide a highly customisable solution for bespoke lecture theatre projects.
The resulting collection includes options for a solid wooden seat, back and desk; completely upholstered seating; and fixed or tip-up writing ledges.
The generously proportioned seat enhances comfort and stability for students, especially when seated for extended periods. The Apollo's distinctive and unique backrest is ergonomically designed to offer maximum comfort, whilst also functioning as a perfectly engineered stable support for the writing surface.
The fixed or tip-up writing ledge allows for note taking, laptops or tablets, without students feeling cramped or encroaching into their neighbour's space.
Key features
Sprung seats for comfort
Robust construction using heavy-duty steel tubes
Strong silent tip-up blocks
Standard form suitable for low risers, sloping or flat floors
Choice of seat centres to accommodate all row lengths
Flexible seating layouts
Available in a variety of customised finishes
Easy to maintain
Material
Frame: heavy-duty square hollow section steel tubes
Seats: cold-cured waterproof moulded foam, plastic tip-up blocks
Installation
Floor or riser mounted
Accessories
Fixed writing ledge; tip-up writing ledge
Related entries
The Athena lecture seat is designed to maximise space in a traditional lecture theatre. The seats can be fitted in a variety of layouts, normally on a tiered structure. The seat interior is steel sprung and seat backs are shaped to provide lumbar support. The Probax posture control system can also be fitted to the backs. Lecture Athena is...

Product, 28 April 2017

Ferco Seating offers clients a flexible approach to lecture theatre design with a portfolio of innovative and engaging products. Ferco design, manufacture and install high quality customised seating for multiple iconic educational establishments including Queens College, Oxford; Clare College, Cambridge and the Cass Business School. Today's...

News, 30 April 2018
More auditorium / stadium seating by Ferco Seating Systems
View all
Also by Ferco Seating Systems
Ferco Seating Systems address and contact details
Ferco Seating Systems Ltd
Unit 28
Atcham Business Park
Shrewsbury
SY4 4UG
Tel: 01743 761244
Fax: 08458 123 101
View on map