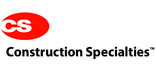 Context
At the entrance to a new multi-faith sanctuary space within Bristol Royal Infirmary, CS supplied a custom printed Acrovyn by Design Wall Mural.
This features a colourful, abstract design created by Willis Newson, in partnership with artist Ptolemy Mann (a renowned textile artist and architectural colour consultant).
Because the mural was created in Acrovyn by Design, it protects the wall, as well as offering comforting words for patients.
"A place of refuge, of shelter, of protection, where nature and the world of spirit meet. A place to use, to come and go, to bring and leave or to wait and be."
Related entries
Acrovyn by Design® bespoke wall coverings protect walls and enable high-impact visuals to be created with photo-quality images embedded in tough Acrovyn®, an impact-resistant covering designed specifically to prevent damage...

Product, 07 December 2017
More projects by Construction Specialties
View all
Also by Construction Specialties
More projects on INTERIOR DESIGN
Construction Specialties address and contact details
Construction Specialties (UK) Ltd
1010 Westcott Venture Park
Westcott
Aylesbury
HP18 0XB
Tel: 01296 652800
Fax: 01296 652888
View on map