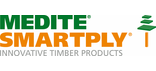 Material
Medium density fibreboard

Features
Flame retardant
Low formaldehyde emissions

Product accreditation
BS EN ISO 13501-1 (Euroclass B)
BS EN ISO 13501-1 (Euroclass C)

Dimensions (l x w)
Euroclass C 1220 x 2440mm / 1220 x 3050mm. Euroclass B 1220 x 2440mm / 1220 x 3050mm

Thickness (mm)
Euroclass C - 4, 6, 9,12,15,18 and 25mm. Euroclass B - 6, 12, 15, 18and 25mm

MEDITE PREMIER FR (Flame Retardant) Euroclass B & C are MDF panels developed specifically for use in situations where a Euroclass B or a Euroclass C flame retardant board is required under building regulations.
Key features
FSC certified
CARB2 compliant
Versatile
Smooth surface
Flame retardant
Available in a range of panels, sizes and thicknesses
Applications
Suitable for use as wall linings, partitions, display panels, ceilings etc. Typical installations are: hotel foyers, offices, public libraries, schools, cinemas and other public buildings. MEDITE PREMIER FR has been certified for use in fire retardant partition systems.
More laminates / boards / solid surfacing by MEDITE SMARTPLY
View all
Also by MEDITE SMARTPLY
MEDITE SMARTPLY address and contact details
Medite Europe Ltd
Persimmon House
Anchor Boulevard
Crossways Business Park
Dartford
DA2 6QH
Tel: 01322 424900
Fax: 01322 424920
View on map